Shop
A Steampunk Guide to Hunting Monsters
Steampunk Fashion, Photography and Fiction combine in this serialized steampunk fantasy photography magazine by artist Tyson Vick. This illustrated tour de force combines steampunk fairy tales and monster stories with the visual aspect of a graphic novel. Each volume compiles chapters from the free online serial version.
Collect all four volumes to read the full story of Miss Philomena Dashwood and her adventures in A Steampunk Guide to Hunting Monsters.
Click the images below to preview and take home a print copy today!
---
Mozart Reimagined
Mozart Reimagined brings a fresh new perspective to the operas of renowned classical composer Wolfgang Amadeus Mozart. Nearly one hundred photographs by artist Tyson Vick illustrate scenes from each and every one of Mozart's theatrical works. Every image is lushly costumed and gorgeously staged, vividly bringing the stories and music of Mozart to life.
Mozart Reimagined promises to be the most informative, humorous and entertaining book you will find about Mozart! Whether you love opera, hate opera or don't know a thing about opera, you will be positively yearning to listen to a Mozart opera after reading Mozart Reimagined.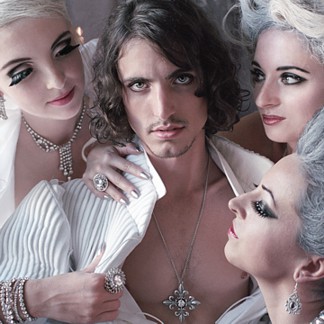 Showing the single result